Shipping Information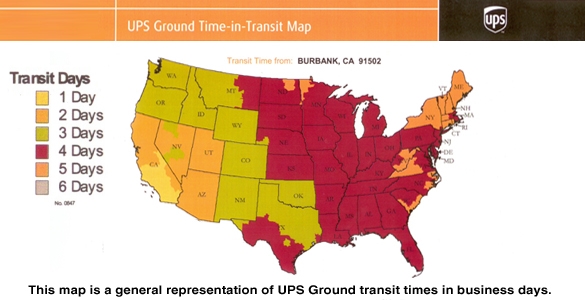 Low $ UPS Ground on Business Cards from 500 to 1,000 quantity in the continental U.S.
Free local delivery (to First Floor) for orders over $50.00, must be located in Glendale or Burbank.
We will notify you via email when your order ships and provide you with a UPS Tracking Number
to track your order at www.ups.com
NOTE : Shipping charges at the check out may be inaccurate ( low or high )
you will get a call if any changes in the shipping amount .

Shipping Methods
All Pro Print offers nationwide shipping and delivery options that fit your budget and schedule.
All Pro Print ships within the continental US only. We do not ship to PO Boxes or
international locations.
Online shipping methods offered include:
UPS Ground
UPS 3 Day SelectSM
UPS 2nd Day Air®
–
Out of State Advantage
Low UPS Shipping Rates on all of our Products
Please Note:
Shipping and delivery costs vary depending on the weight of product(s) ordered, transit time
and location of your shipment. UPS shipping rates depend on per item weight.
IMPORTANT: At this time, the maximum weight allowed for UPS online shipping calculator is 150 lbs.
If your Shopping Cart exceeds this limit, please remove items from your cart until you meet the limit
and complete your order. To order additional products, simply process another order by adding
products to your Shopping Cart. We apologize for any inconvenience this may cause.
Please feel free to email us at printharvey@yahoo.com if you have questions about shipping
methods and terms.
Printing Services in Glendale, CA